Posted by : Dewey Riou III
Friday, September 5, 2014
| 9/5/14 4:30PM |
An Uncertain Future
The second season finale of the Walking Dead game closes the door on many of the conflicts that were built up throughout the season, and even creates a few new ones that I hope to see addressed in a third season. The roughly two-hour episode features some very intense moments, and really forces you to choose between your past and present allies in a dramatic way.
It's a very satisfying finale that will definitely tug at your emotions as it really puts you into the shoes of Clementine like no past episode has done.
No Going Back wastes no time picking up where Amid the Ruins left off. With chaos ensuing from the gunshots, you're find yourself caught in the middle as you try to survive. Even though the episode starts off this way, it's nothing in comparison to the events that will occur later in the episode.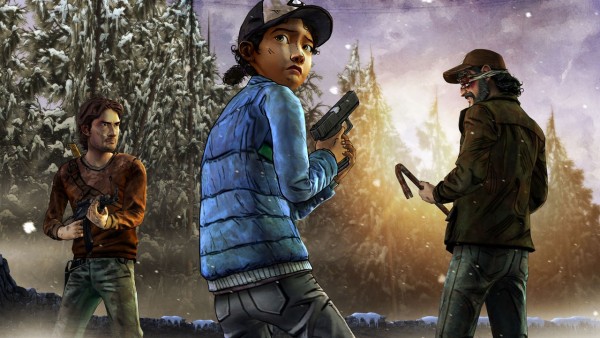 Loss is a major theme throughout the series, and is something that you'll have to deal with a few times in the finale. Despite everything that Clementine has been through, the events that occur in No Going Back really hit her hard and are just as impacting as losing Lee at the end of the first season.
This finale really drives the fact home that no is safe in this world, and that humans are far more dangerous than the shambling undead.
Near the end of the finale, you're forced to make some fairly tough decisions that will surely impact how things will move in the future. What's crazy about them is that there's really no time to put major thought into each one as they appear quickly.
It's one of the elements that I really enjoy about the series, but I do sometimes wish I had more time to react to some of these choices.
Recent Reviews



Overall, No Going Back is a fantastic conclusion to the second season that encompasses everything from the past season that has made this such an engaging series to experience. This is videogame storytelling at its best.
+ Engaging conclusion to the second season
+ Impacting choices to make from start to finish
Reviews on the thebuttonpresser.com are based out of a '1-5 controller' Scoring system. Purchased games by the reviewer contain no annotation, but review copies are always known to the reader via a review disclaimer.
Developer
- Telltale Games
Publishers
- Telltale Games
Release Date
- August 27th, 2014
Price
- $4.99 MSRP
Review Platform
- Xbox Live Arcade
comments powered by

Disqus
Related Posts :
Episode 5, Game Review, TellTale games, The Walking Dead game Season 2
Review: The Walking Dead: Season Two - Episode 5