Posted by : Dewey Riou III
Tuesday, January 1, 2013
2012 is now over.
This past year saw some great games throughout the entire year including Mass Effect 3, Diablo III, Hitman Absolution, Sleeping Dogs, Dust: An Elysian Tail, The Walking Dead game, and many, many more. There was also the release of the Wii U, which will probably have some great games ready for 2013 and allow the new console to pick up some more steam, as well as the announcement of big games like The Last of Us, Bioshock Infinite and Grand Theft Auto V coming in 2013.
2012 contained great games no matter which platform you play on, and ensured that great games and originality is still around the gaming industry.
This past year was full of great games and many that I still want to play. In my opinion, here are the games that I saw as the best:
Best Playstation 3/ Vita Exclusive game




The Nominees-Journey, PlayStation All-stars, LittleBigPlanet Vita, Persona 4 Golden
And the winner is... Journey!!
Journey is a game that is all about the experience of exploration. It's an experience that can be completed in a few hours, but will give you a lasting expression. The soundtrack has also set a benchmark for gaming, as it is nominated for a Grammy, a first for a videogame.
Runner-Up
-PlayStation All-stars: Battle Royale-
Sony's first foray into the brawling genre was pretty well done. Each character that is in the are fairly balanced, although there will always be that character that people won't want you to play as online. The cross-play functionality works pretty well, so whether you're playing on a PS3 or Vita, you'll be able to have a great time online with the game.
Best Xbox 360 Exclusive Game
The Nominees-Halo 4, Forza Horizon, Dust: An Elysian Tail, Fable: The Journey
And the Winner is... Halo 4!!
343 Industries has tackled Master Chief's new game in a way that satisfies fans while proving that they can take the helm of Bungie's work. As the start of a new trilogy, Halo 4 sets things up nicely and I can't wait to see how 343 will contuine expanding upon the legend of the Chief.
Runner-UP
-Forza Horizon-
Part Simulation and Part Arcade racer, Forza Horizon is able to appeal to both casual and core racing fans by providing a nice open world to drive around in, fun and varied races that give you different feels depending on the vehicle, and great online functionality that all players can appreciate.
The Nominees-The Walking Dead, Dust: An Elysian Tail, Tony Hawk HD, Mark of The Ninja, Minecraft: Xbox 360 Edition
And the winner is... Dust: An Elysian Tail!!
It's pretty amazing that this title was created by essentially one person, with others coming in to help with post production elements, as well as the music and voice overs. This animated title features great 2d action and a solid story, as well a Castlevania/ Metroid feel that encourages replayability. Dust: An Elysian Tail is a must download!
Runner-UP
-Minecraft: Xbox 360 Edition-
Mojang's popular block sandbox title made its way onto XBLA with ease and has been one of the most played games since its release a few months back. It will probably always be behind the PC version in terms of updates, but its still worth checking out.
Best "Bang for your Buck" Award


The Nominees- Far Cry 3, Black Ops 2, Borderlands 2, Minecraft: Xbox 360 Edition
And the Winner is... Minecraft: Xbox 360 Edition!!
$20 will get you hours upon hours of building entertainment. It's like LEGOs with an controller which makes for a game that players of all ages can enjoy.
Runner-UP
-Far Cry 3-
The Islands on Far Cry 3 demand exploration, and after 30 hours of playing, I still wanted to go back into it. After you've had your fill for campaign, you could then hop into the map editior, play co-op with friends, or fight against players online. I think it was probably one of my favorite recent Ubisoft titles and its got a lot of bang for your buck.



The Nominees- Halo 4, Far Cry 3, Borderlands 2, Assassins Creed III, Max Payne 3, Mass Effect 3
And the winner is... Far Cry 3!!
Far Cry 2 received mixed reviews when it was released, but the sequel has made drastic improvements which made it so fun and engaging. Far Cry 3 is about exploration and fun combat, while making sure players can get around with no hassles and they every activity in the game is fun to play.
Runner-UP
-Max Payne 3-
Rockstar took what worked about the first two Max Payne titles, and improved on what didn't for Max Payne 3. This title gives you an exciting foray into the world of a man who has lost everything except the comfort of a drink and pain pills that only remind him that he doesn't have it together. The fantasic gunplay is accompanied by the trademark bullet time, which after all these years never gets old when playing as the former NYPD detective.


The Nominees- Borderlands 2, Far Cry 3, Halo 4, Diablo III,
And the Winner is... Borderlands 2!!
Returning to Pandora is best done with friends at your side. Borderlands 2 offers up an easier way to trade items, as well as new vehicles that fully support four players. Dueling has been improved as well, and the winner could even score some extra loot if you find yourself arguing over who should get the good stuff.
Runner-UP
-Far Cry 3-
While its not the main attraction, the co-op mode in Far Cry 3 is a lot of fun. It features characters that are not from the main campaign as they begin tracking down a corrupt ship captain in hopes for getting revenge and money from him. Guns can be upgraded as well to help fight against the pirates who are aiding the captain. When you're done with the story of Far Cry 3, co-op is another great mode that you can check out.
Best New IP
(Dishonored by Arkane Studios)
Dishonored is all about providing choice to players in terms of how they will tackle the game's missions. You could use a mixture of stealth and deception, or go for a more action-y approach and use your melee weapons and pistols to get the job done. The way you get things done is totally up to you.
Greatest Gaming Moment this Year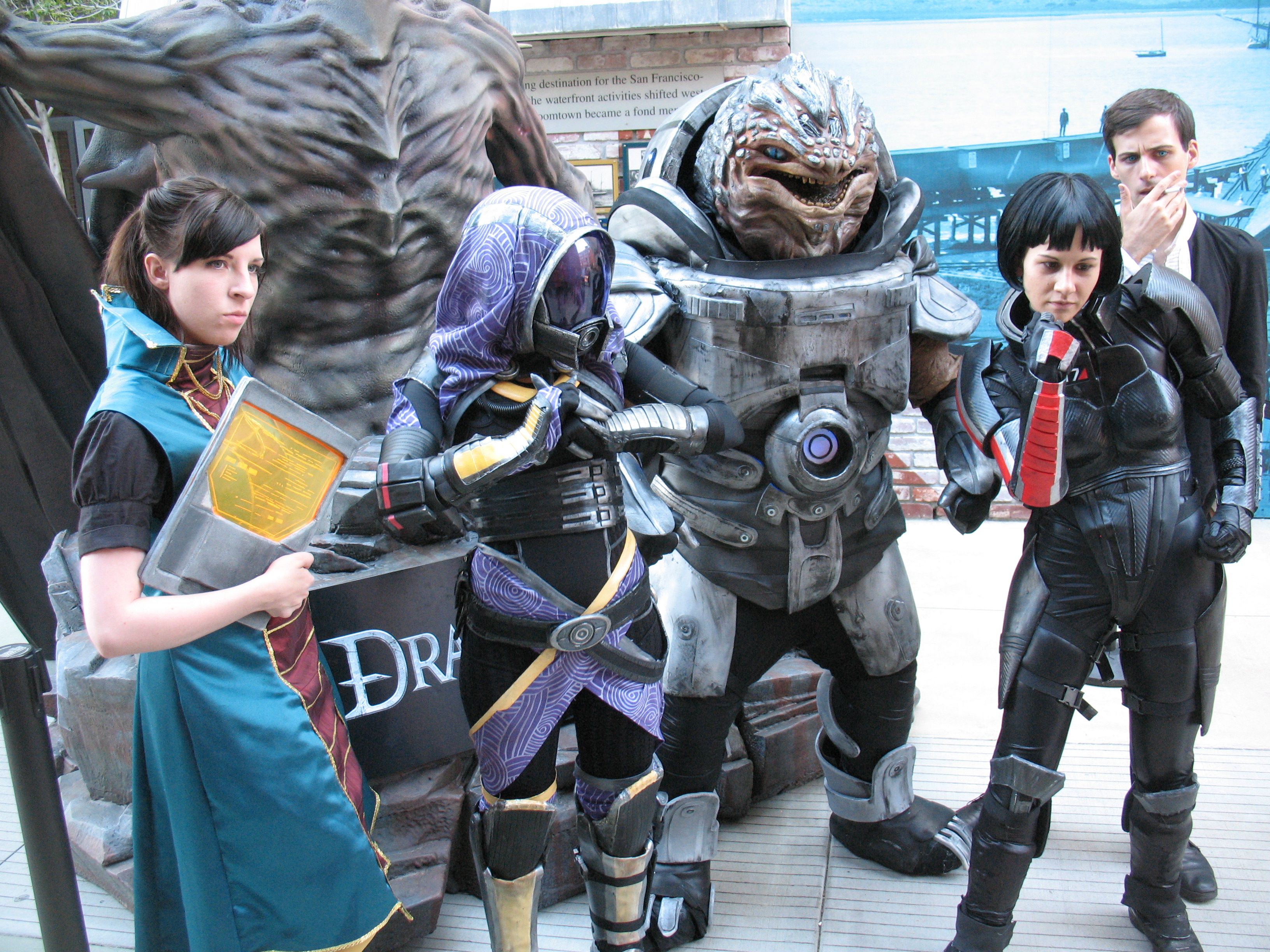 "Fan Reactions to the Mass Effect 3 Ending" (Mass Effect 3)
The trilogy of Mass Effect is amazing. Bioware has created a game that gave players a chance to be at the center of a epic space adventure, but when it concluded earlier in 2012, the ending was panned for its lack of content and resolution. Fan theories popped up everywhere, with some even creating detailed documentaries based on key moments from each title. This disappointment with the ending sparked Bioware to release free DLC in the form of the Extended Cut, which alleviate some pain, but others still wanted more.
Like with a movie trilogy or ending of a long running tv show, gamers were there to make their voice heard all because they care and invested so much time and money into the games. I hated the ending too, but mainly because I had to say goodbye to a trilogy that I have been apart of since 2007. Overall, Bioware and Mass Effect rock, as well as the fans who voiced their opinions about the ending of the game.
AND NOW FOR THE GAME OF THE YEAR:



The Nominees-Far Cry 3, Halo 4, Dishonored, Sleeping Dogs, Max Payne 3, Dust: An Elysian Tail, The Walking Dead game, Mass Effect 3
And The Winner is... Mass Effect 3!!!!
Fans were disappointed with the ending because they cared so much about their time with Shepard. Spanning across three games over the course of about five years, Mass Effect put you at the helm of an epic story to save the universe while building friendships with your allies, who could have lived or died based on the decesions that you chose. Mass Effect 3 closed out the trilogy with a game that played like a great shooter and contained some surprisingly fun multiplayer. Rumors are that a new Mass Effect will be coming in the future, so in the meantime, excuse me while I play through the trilogy one more time!
Runner-Up
-Dishonored-
Dishonored was one of the only original titles to be released this year, but it was also one of the best. To me, it took elements from Deus Ex, Half-Life, and Bioshock while being its own game with a great sense of freedom in terms of the gameplay. Where other titles would restrict you to give you their view of the action, Dishonored lets you tackle missions based on your own personal playstyle. The game also had a great visual style that felt unique and dark that went well with the sotry of plague and betrayal in the game.
Once again these are the awards and games I have chosen. Many games of 2012 deserve a look and although I didn't put them all on here, there are plenty out there other than the ones I included. 2012 was a huge year for games and 2013 should be awesome as well, especially since we'll finally be able to play Bioshock Infinite and GTA V! Congrats to the Developers and Publishers for having their games released, Happy Holidays, and Here's to a great year of gaming in 2013!!!
Related Posts :
2012 Button Presser Awards, Game of The Year
It's The 2012 Button Presser Awards!!