Posted by : Unknown
Thursday, February 24, 2011











The long-awaited DLC for Deadliest Warrior featuring new fighters voted on by fans is here to play. Dubbed the 'Deadliest Warrior: DLC Expansion Pack 1', the pack offers three new fighters alongside a new game mode to play.





The three new fighters are the Shaolin Monks, and Rajput and Zande warriors, and the mode is Skirmish. In Skirmish mode, Players can Select up to 4 warriors to fight in succession against each other. Check out more below: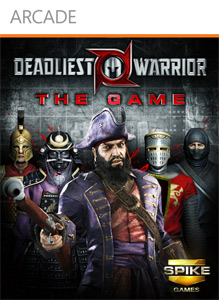 "New DLC content featuring 3 new warriors, a new game mode, replays, titles and new taunts for all your characters!"


Link to Content- DW: Expansion Pack 1 (400 MSP/ 69.89 MB)

In case you don't pick up the DLC, you'll need this to fight against players who do:

Deadliest Warrior FREE Version Expansion Pack
Related Posts :
Deadliest Warrior, Downloadable Content
Deadliest Warrior DLC is Finally here!